Technology At Your Valley Fair Mall Dentist
Your Valley Fair mall dentist has invested in modern technology to ensure your receive outstanding smile enhancements and quality restorations.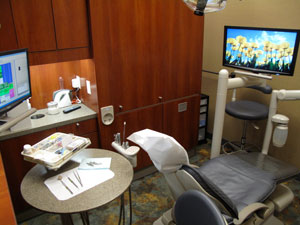 Digital Radiography (Xrays)
Digital X-rays enhance image sharing and image quality, allowing our expert dentists to diagnose patient problems with outstanding accuracy. Digital X-rays also reduce patient exposure to radiation by up to 90%, which is especially important for patients requiring multiple X-rays.
VELscope Oral Cancer Screening
Early detection is essential to halt the progression of any type of cancer. The VELscope device helps our dentist detect abnormal tissues and lesions before they are visible to the naked eye. The device will emit a blue light to detect abnormalities. We provide VELscope screenings near you to detect and treat oral cancer in the early stages.
Kavo Key 3 Laser
The KaVo Key 3 Laser has revolutionized dental procedures by eliminating drills and providing a more sterile and comfortable treatment. Lasers eliminate the need for anesthesia and reduce the risk of infection. The Laser can also desensitize teeth, treat periodontal disease, and detect cavities.
Digital Communications
We have designed our website to keep you informed about our service offerings and our team. We also utilize this website to keep you updated with our activities and involvement in the community. Besides our website, we also regularly update our Valley Fair Dental Blog with educational and insightful material related to achieving optimal oral health.
Intraoral Camera
Intraoral Cameras allow our doctors to capture and display digital images inside the patient's mouth. This technology is invaluable, as we can be better educated on the patient's condition and document their case. By utilizing Intraoral Cameras, patients can see what the dentist sees during a visual exam, making it easier for them to accept recommended or required dental treatments.
iTero Scanner
This technology allows our doctors to capture enhanced digital images of the patient's mouth. The scan involves a hassle-free impression of the patient's teeth, generating a detailed 3-D image of the patient's teeth pre-treatment as well as displaying the appearance of their teeth post-treatment. The iTero Scanner is utilized for dental treatments such as Invisalign, dental crowns, and dental implants. In the case of Invisalign treatment, the iTero Scanner assists your doctor with treatment planning as well as the creation of the patient's clear aligners.
Your Valley Fair Mall Dentist Is Accepting New Patients!
If you would like to find out more about how your Valley Fair mall dentist uses advanced technology you can contact us online or call us.
We are accepting new patients at our conveniently located practice. We hope to see you soon!