Invisalign Near You
If you are seeking orthodontic treatment to correct your smile, you may be interested to learn about Invisalign treatment. Invisalign is a modern alternative to traditional metal braces, using a series of clear aligners that are custom to your smile. Each set of aligners are replaced every two to three weeks with a new set to help gradually shift the position of your teeth throughout the duration of your treatment period. If you are interested in finding out if you are a candidate for Invisalign in Maple Ridge, contact our dental office today to schedule a consultation.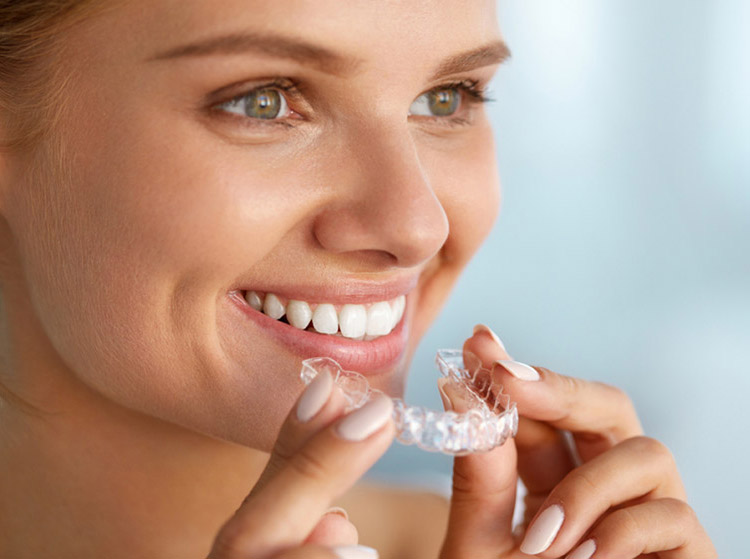 Looking for Invisalign in Maple Ridge?
Receiving a consultation is required to determine whether or not you are an ideal candidate for Invisalign treatment. During your consultation, our dentists will map out your treatment plan, custom to your orthodontic needs. The following issues can be addressed with Invisalign treatment:
Overbite
Crowding
Tooth gaps
Uneven tooth spacing
Crossbite
If you are eligible for Invisalign, our doctors will walk you through the treatment process, which includes the patient's ability to see a 3-D image of their smile via the iTero Smile Simulation. This involves receiving impressions of your teeth without the hassle of traditional methods, while also generating post treatment images of your smile in real time.
Benefits of Receiving Invisalign
Interested in receiving Invisalign in Maple Ridge? There are many benefits to choosing this type of orthodontic treatment as an alternative to traditional methods. An obvious difference is that Invisalign clear aligners are virtually invisible in comparison to the metal brackets and wires that come with metal braces. However, there are many practical advantages to receiving Invisalign treatment, which include the following:
Better Oral Hygiene – The ability to remove clear aligners during your treatment period allows for patients to carry out their regular oral hygiene practices. Brackets and wires make it more difficult to floss between your teeth and can cause stains on your teeth if you do not brush thoroughly.
Predictable Movement During Treatment – With Invisalign, the guesswork is eliminated and allows for a more predictable and controlled movement of your teeth.
Improved Self-Esteem and Freedom – The comfort and convenience of the clear aligners is not the primary concern, however, it does provide patients with more self-confidence because of its nearly invisible appearance.
Ease to Eat & Drink – With Invisalign treatment you don't have to worry about giving up your favorite foods during your treatment period. With braces you must avoid crunchy, hard, or chewy foods, but this isn't the case with clear aligners as you are able to remove them before meals.
Less Frequent Check-Ups – With Invisalign treatment, you typically receive your new set of aligners in the mail as opposed to scheduling an appointment to adjust your wires and brackets in person. This makes for less frequent visits to the dental chair and more convenience overall.
We Provide Invisalign Treatment Near You
Valley Fair Dental prioritizes your oral health above all else and goes above and beyond to provide innovative and effective dental care to our patients. Our dental team provides a comprehensive approach to help patients better understand the treatment process beforehand. If you are interested in receiving Invisalign in Maple Ridge, contact our office today to schedule a consultation, we look forward to treating you!