Dental Cleanings Near You
While it is important to brush properly and floss every day, that does not guarantee your teeth will be plaque-free. Your toothbrush alone will not remove all the plaque from the surface of your teeth. Only a hygienist has the proper tools to remove plaque and tartar buildup from your teeth. It is essential that you visit your dentist at least twice a year to get a dental cleaning and check-up. If you are looking for a dental cleaning near you, visit Valley Fair Dental, where we offer quality dental cleanings in Maple Ridge.
Whenever you finish eating, always rinse your mouth or drink water to remove food particles from your teeth. By practicing good oral hygiene, you can prevent tooth decay. Your oral health affects your overall health. With simple habits such as flossing every night, you can improve your overall health.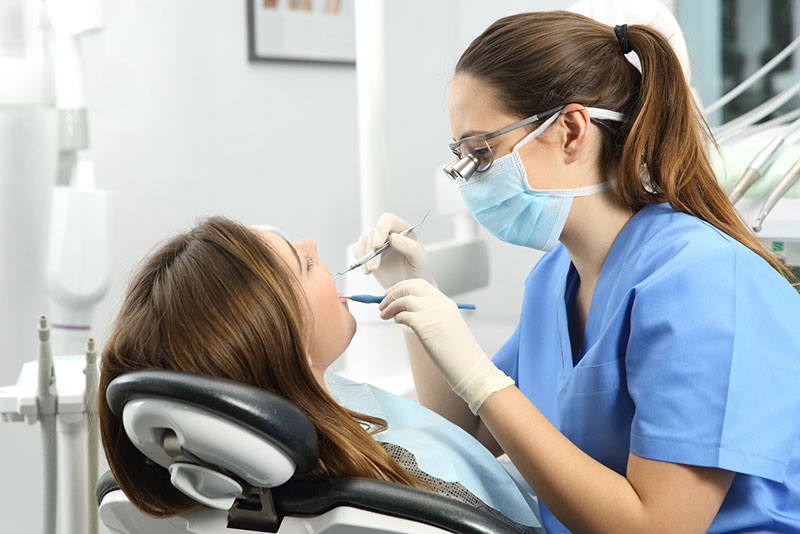 Why Receive Regular Dental Cleanings?
Dental cleanings not only remove plaque and tartar from your teeth, but also allows the dentist to examine your teeth. A thorough dental check-up can detect any oral health problems in the early stages, so you can prevent them from becoming more severe in the future.
Bacteria that have been left in your mouth for too long can cause inflammation in your gums leading to gum disease. Many people do not realize they have some form of gum disease until it becomes more serious. When you have frequent dental cleanings near you, your dentist will be able to spot the inflammation before it turns into gingivitis.
Maintain Your Oral Hygiene
You are only given two sets of teeth in your life, your baby and adult teeth. Once your tooth gets damaged, it cannot repair itself. While there is restorative dentistry you can receive when your teeth get damaged, maintaining your natural, healthy teeth is still a better alternative. To prevent your teeth from tooth decay, be sure to:
Brush for two minutes
Floss at least once every day
Rinse after eating
Rinse your mouth with an antiseptic mouthwash
Scrape your tongue
Get a dental cleaning near you twice a year
Benefits of Dental Sealants
An important aspect of promoting good oral health and hygiene is ensuring your teeth have an added layer of protection. Tooth decay and cavities develop in the pits and fissures of your teeth, which are hard to reach with your toothbrush alone. Dental sealants may be recommended as a result, providing your tooth with a protective layer or coating painted on the chewing surface of your teeth. This treatment is typically recommended for children but can also be utilized by adults.
We Offer Digital and Analog X-Rays
Our office provides dental x-rays to allow for accurate diagnosis and treatment of oral health issues in patients. We offer traditional x-rays as well as digital x-rays, which involve a faster imaging process and avoid radiation exposure. It is recommended you receive dental x-rays once a year to ensure optimum oral health. If you have not received dental x-rays in some time, let your dentist know at your next dental visit.
Interested in Scheduling a Dental Cleaning & Check-Ups?
If you are looking for a dental cleaning in Maple Ridge, Valley Fair Dental has a dental team passionate about helping you keep your oral hygiene at its best. Besides cleaning your teeth, we will check your gums and detect any other oral health problems. To improve your oral health and overall health, visit us for a dental cleaning near you.